Countertops
ASK US
Send us detailed information on the countertops, work tops, vanity tops or cabinets you want to buy, and we will offer our best prices by return.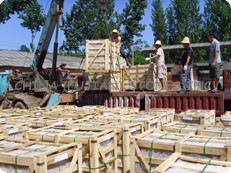 HOME>> Countertop >
Countertops: Packing
Packing
Granite countertops are usually fragile and are easily scratched. We pack countertops in a vertical upright position and pack them in strong crates to minimize the possibility of damage. All polished sides are separated by packaging material to avoid scratching. When loading the countertops into a container, we give each crate a final inspection to make sure no damage will occur. However, please note, all the countertops should be handled extremely carefully when unloading, during on-site transportation and during installation.
Our packing list shows all the details of the size, color, crate number, etc. Our shipping mark contains sufficient detail to ensure that clients can easily locate all their merchandise.
China Stones Inc. supply bath vanity, vanity top, granite vanity, marble vanity top, granite vanity top, bathroom vanity top, granite vanity top.
Bathroom vanity top, or bath vanity is only 2cm (3/4") in thickness with or without laminated edge. Comparing with countertops in kitchen, vanity tops are much smaller size, e.g. 28x16x3/4". However, there is sink cut-out in granite vanity or marble vanity top which makes them very easy to break during transportation. In this case, the packing is very important. All vanity tops must be packed vertically, not horizontally in crate.