PROJECTS
Any building project can be intimidating and challenging. Put your mind at rest! Let our company provide the resources you need for a successful project. You have a vision - we have the expert knowledge to bring your project to life.
Leave a message here to let us know about your project and the type of stones you are sourcing. We will recommend suitable stone and provide you with an estimate.
Tell us what you need?

Want to consult an expert first? Go to European Procurement Expertise.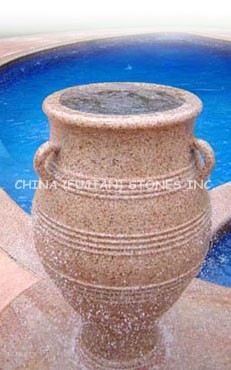 We made this amazing vase out of solid granite. We also supplied many construction stones including pool coping, etc, for this expensive villa in USA. This job was awarded the NESPA [North East Spa & Pool Association] Bronze Award in 2004.
HOME >>

PROJECTS

Project Type: Albion + Eastside + Advent + Ovale Projects
Location: Great Ancoats, Manchester, UK
Surface: floor tiles, skirting, stairs, counter tops, bathtub covers, etc..
Contractor/Architect: ACG
Year of completion: 2006-2007


Project Type: Shopping Mall
Location: Liege City, Belgium
Surface: 2700 m2 of floor tiles, stairs, and window sills, etc.
Contractor/Architect:CFE
Year of completion:2004


Project Type: Office building-Espace Guillemins
Location: Liege, Belgium
Surface: 2,000m2 of floor and columns, etc.
Contractor/Architect:
Year of completion:2008


Project Type: Apartment
Location: Milan, Italy
Surface: 20,000m2 of floor tiles, steps and risers and skirtings, etc.
Contractor/Architect:
Year of completion: 2006

Project Type: New Build Hotel-- Riviera Hotel
Location:Kiev, Ukraine
Surface: 240 tonnes of wall cladding, columns, balusters, etc.
Contractor/Architect:
Year of completion: 2006


Project Type: New Build Private building- Rubislaw Den
Location: Aberdeen, United Kingdom
Surface:156 tonnes of the stones to build the building (wall façade)
Contractor/Architect: Canale Associates
Year of completion: 2000


Project Type: New Build Private House-Fountain Hall
Location: Aberdeen, United Kingdom
Surface:168 tonnes of stones to build the building (wall façade)
Contractor/Architect: Neil Rothnie Architects
Year of completion: 2004-2005


Project Type: New Build Office building
Location: Dar es Salaam, Tanzania
Surface: 7,000m2 of granite , rustic beige of
uniform color.
Contractor/Architect:
Year of completion: 2009



Project Type:

New Tanzania Parliament Building


Location: Dodoma, Tanzania
Surface: 2300m2 walls, 2500m2 floors, and 1000m2stairs

of

granite.
Contractor/Architect: K & M Archplans (T) Ltd
Year of completion: 2006

Project Type: New Build Villa-Swimming Pool & Spa
Location: USA
Surface: Pool Copings, Columns, Baluster, Paving, etc.
Contractor/Architect:Le Paradius
Year of completion:2007


Project Type: Government building-- Utumishi
Location: Dar es Salaam, Tanzania
Surface: 3,000m2 of wall cladding, floor tiles, steps, etc.
Contractor/Architect:
Year of completion: 2007