PROJECTS
Any building project can be intimidating and challenging, put your mind in ease. Let our company provides resources you need for a successful project. You have vision; we have the expert knowledge to bring your project to life.
Leave the message here to let us know about your project and the stones you are sourcing. We shall recommend the stone and work out an estimate for you.
Tell us what you want?

Want to consult an expert first? Go to European Procurement Expertise.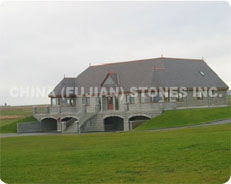 We supplied external walls, pier caps, columns, curbs, and stone lanterns for this luxurious private villa near Inverallochy Golf Course in Scotland. We meticulously carried out the detailed stone work for this structure to meet the demanding specifications for quality and appearance. In appreciation, the owner invited China Stones President Rong Gao to her home for afternoon tea in 2007. We sincerely hope this stunning mansion will grace the Scottish countryside for many years to come.
HOME >>

PROJECTS

Project Type:

Crown Street - Office Building


Location: Aberdeen, United Kingdom
Surface: 624 tonnes of the stones to build this building (wall façade).
Contractor/Architect:Maclachlan MonaghanArchitects
Year of completion: 2000


Project Type: Apartment buildings - Earls Court
Location: Aberdeen, United Kingdom
Surface:. 216 tonnes of the stones to build the 2 buildings (wall facade)
Contractor/Architect:
Year of completion: 2003


Project Type: Private building - Inverallochy
Location: Aberdeen, UK
Surface:. Padang dark granite for wall façade, columns, kerbs, etc.
Contractor/Architect:
Year of completion: 2004


Project Type: Thistle Aberdeen Caledonian Hotel
Location: Aberdeen, Scotland, UK
Surface:. Reception, counters,etc.
Contractor/Architect:
Year of completion: 2004

Project Type: Apartments
Location: Dempsey Court, Aberdeen, UK
Surface:.Lower part of the wall surface for 5 blocks of apartments.
Contractor/Architect:
Year of completion: 2005


Project Type: Apartment-Robertson
Location: East Bank, Queens Rd. Aberdeen, UK
Surface: 229 tones wall claddings with fare picked grey granite.
Contractor/Architect: Reynolds Architecture
Year of completion: 2006 – 2007


Project Type: Private House
Location: Aberdeen, United Kingdom
Surface: Pink stones to build this building (wall facade)
Contractor/Architect:
Year of completion: 2005
Description: The pink granite stones with various finishes make this building very bright in Aberdeen city.

Project Type: Morningfield Hospital
Location: Aberdeen, United Kingdom
Surface:260 tonnes of the light grey & dark grey granite stones to build this city hospital (wall facade)
Contractor/Architect:
Year of completion: 2002