PROJECTS
Any building project can be intimidating and challenging, put your mind in ease. Let our company provides resources you need for a successful project. You have vision; we have the expert knowledge to bring your project to life.
Leave the message here to let us know about your project and the stones you are sourcing. We shall recommend the stone and work out an estimate for you.
Tell us what you want?

Want to consult an expert first? Go to European Procurement Expertise.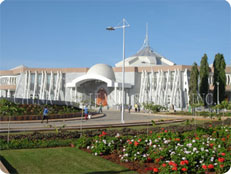 After a careful and thorough on-the-spot examination of our company, factory, and quarries, the clients finally decided to purchase all indoor and outdoor natural stone from our company. During a supply period of roughly one year, we delivered thousands of pieces for external walls with no color variation, curved wall cladding, parquet flooring, and curved steps. The client gave high marks for our high quality products and superior support service. In addition, the completed structure received extensive coverage in the local media.
HOME >>

PROJECTS

Project Type: Hotel (4 diamonds)
Location: South Carolina, USA
Surface: Over 70 tonnes of Wall, columns, balusters, window hooks, swimming pools, etc.
Contractor/Architect: Beers Construction (later renamed as Skanska USA)
Year of completion:2002


Project Type: Government Building' Square
Location: Shenzhen, China
Surface: 20,000m2 of paving, blind paving, stairs, etc.
Contractor/Architect:
Year of completion: 2003

Project Type: Office Building
Location: Tel Aviv, Israel
Surface: 3000m2 of wall cladding
Contractor/Architect:Alony
Year of completion: 2003


Project Type: Bank
Location: Brussels , Belgium
Surface: 500m2 walls, 400m2 floors and stairs.
Contractor/Architect:M.Jaspers et Partners
Year of completion: 2003



Project Type: Private House
Location: Dublin, Ireland
Surface: Pavings, Kerbs, Columns, Pier Caps, Bench, Pineapple Carvings, etc.
Contractor/Architect:
Year of completion: 2006