PROJECTS
Any building project can be intimidating and challenging, put your mind in ease. Let our company provides resources you need for a successful project. You have vision; we have the expert knowledge to bring your project to life.
Leave the message here to let us know about your project and the stones you are sourcing. We shall recommend the stone and work out an estimate for you.
Tell us what you want?

Want to consult an expert first? Go to European Procurement Expertise.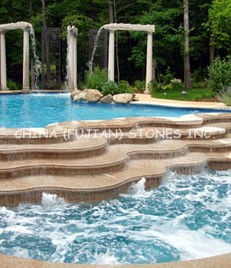 This fantastic pool was awarded NESPA [North East Spa Pool Association] Gold prize in 2006. Each of the 5 solid columns each is 229 3/8" in height (582cm). The total length of the pool coping is 6035feet, constructed with 70 pieces of stones.
HOME >>

PROJECTS

Project Type: Office Building (Steelcrest)
Lacation: Wagga Wagga, Australia
Surface: 26 tonnes of wall cladding
Year of completion: 2009

Project Type: Shopping Mall Renovation (Mafuta)
Location: Dar es Salaam, Tanzania Surface: floor tiles and stairs Year of completion: 2008

Project Type: Harvard Divinity School
Location: Cambridge, United States
Surface: 69 tonnes of pavings, labyrinth,signs,benches and others.
Year of completion: 2008

Project Type: Renovation School
Location: Somerville, United States
Surface: 37 tonnes of wall, wall coping, sign, benches and others
Year of completion: 2006



Project Type: Apartment Building
Location: Milan, Italy
Surface: 2,000m2 of steps and risers, floor tiles, others
Year of completion: 2008


Project Type: Apartment
Location: Milan, Italy
Surface: 5000m2 of grey granite for wall, floor, and steps.
Contractor/Architect:
Year of completion: 2005


Project Type: Apartment Hotel (Mandela Rhodes Place)
Location: Cape Town, South Africa
Surface: 2200M2 of wall facades
Years of completion: 2007