COMPANY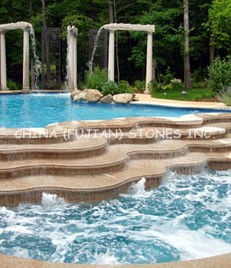 This fantastic pool was awarded NESPA Gold prize in 2006. The 5 solid columns each is 229 3/8" in height (582cm). The total length of the pool coping is 6035feet, constructed with 70 pieces of stones.

HOME >> COMPANY >
ABOUT US

For all your stone product needs, China Stones towers over the competition!

Thank you for visiting our Web site. China Stones is one of China's leading stone-product exporters, producing attractive, durable tiles, slabs, countertops, vanities, sinks, walling, lintels, quoins, sills, doorcases, columns, balusters, piers caps, pedestals, steps & risers, staircases, treads, copings, benchs, tables, fireplaces, sculptures,paving stones, kerbstones, roof stone, monuments, mosaics, honeycomb panels, 1mm thin slabs, waterjet flooring in granite, marble, sandstone and slate,etc. Using sophisticated technology and processing equipment,rolex replica watches we can create beautiful stone products based on customer requirements to virtually any shape.

With exports totaling 20,000 cubic meters, our high-quality, reasonably-priced products grace airports, subway stations, temples, gardens, and roads around the world. Our stone products are selling especially well in Japan, Western Europe, Australia, and North America.

Please browse our Web site to learn about the wide variety of handsome stone products we offer. Agents or buyers - we would love to hear from you; just click the Contact Us button. All inquiries are answered as thoroughly as possible within 24 hours.

Because of space limitations, all our products are not listed on this site. If you would like something that you can't find here, just send us the specifications or pictures and we will be happy to work up an estimate for you replica watches .
Cooperative partners: Stone dealers, Construction companies, Residents, Retail giants, etc.

Among top world 500 companies, 3 construction companies who are our customers:

China Railway Group Limited:

Listed No. 9 in China, and No. 137 in the world top 500. Annual income in 2010 was USD50,700 million.

Bouygues:

Listed as No. 18 in France, and listed as No. 168 in world top 500. Annual income in year 2010 was USD43,579 million.

Skanska:

Listed as No. 5 in Sweden, and listed as No. 476 in world top 500. Annual income in year 2010 was USD17,887 million.